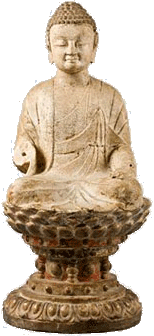 The second half of the 6thcentury was a period, in which China was divided in Northern and Southern Dynasties. While in present-day central and southern China the Chen Dynasty (557 – 589) was in power, the North was divided in two between the Northern Zhou (557-581) and the Northern Qi Dynasty (550- 577).
Within just a few years Buddhism flourished to a greater extent than ever before. Central-Asian and Indian monks came to the imperial court of the Northern Qi at the capital of Yecheng, Hebei province. New Buddhist texts were translated and the Indian monastic dress code took root in China (left). These novelties influenced the style and iconography of the sculptures. The overall plasticity of the images increased (right) and new motives like six-figured Buddha-assemblies or spirit-kings wearing Central-Asian dress were carved in steles or on temple-walls.
---
left: Seated Buddha. Marble with yellowish-white patina, traces of paint Total height 65.6 cm, figure 40.8 cm China, Northern Qi 550-577 or Sui dynasty 581-618 Museum of East Asian Art Cologne, Inv. No. 69,1 © Rheinisches Bildarchiv Köln (RBA). right: Standing Bodhisattva. Guanyin Marble with cream patina and traces of paint, h 96 cm China, Hebei Province, Northern Qi dynasty 550 – 577 Museum of East Asian Art Cologne, Inv. No. Bc 13,1 Acquired in 1913 by Adolf Fischer, founder of the Museum, from Paul Mallon, Paris © Rheinisches Bildarchiv Köln (RBA)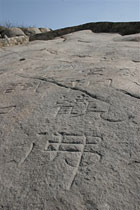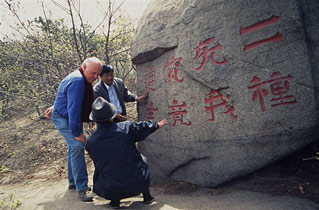 left: Inscription on Mount Ge (Geshan) China, dated to 580, Northern Zhou Dynasty 557 – 581. Readable characters: "Real attributes … [just so do I] contemplate the Buddha" (Shixiang Guanfo) of the Vimalakīrti-nirdeśa-sūtra © Lukas Ledderose. right: Hu Xinli, Director of the Museum of Zoucheng city, Prof. L. Ledderose, Heidelberg University and Prof. Luo Zhao Academy of Social Sciences, Beijing in front of an inscription on Mount Gang (Gangshan). Inscription about 580 China, Zoucheng, Shandong province © Lukas Ledderose.
In 574 to 578 under Emperor Wu of the Northern Zhou Dynasty a fierce Buddhist prosecution took place, the second in China after the first prosecution during the Northern Wei Dynasty (386 – 534) in 446. Monasteries were dissolved, statues de-stroyed and sutras burnt. The clerics were laicized and many monks were conscripted to do military service. The prosecution, but also constant war and upheaval convinced Buddhist believers that they did live in an era, in which the Buddhist law would come to an end.
On the 6 mountains around Zoucheng in Shandong province, to this end Buddhist texts in monumental characters were carved into the rocks. The aim was to preserve the sacred Buddhist writings and at the same time to acquire religious merits for oneself and one's ancestors to attain to a higher stage of rebirth.
Excerpts of philosophical texts were carved into vertical cliffs comparable to bill-boards or distributed over rock-faces and scattered boulders on a pilgrim route lead-ing up the mountain. The texts reflect the nature and existence of all things or describe the way to enlightenment.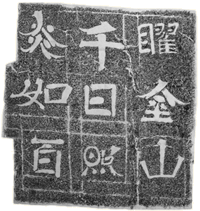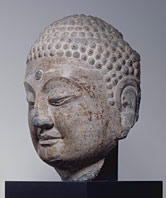 In the exhibition Buddhist culture is illustrated by means of two large groups of works: stone sculptures and stone rubbings of holy scriptures chiselled into stone. The sculptures for the most part acquired by the museum's founder Adolf Fischer (1856 – 1914), are being placed alongside loans from the Eduard von der Heydt collection at the Museum Rietberg Zurich and from private collectors. The exhibition of the monumental stone rubbings of Shandong province together with stone sculptures in a museum is in itself a world first.
The powerful sculptures and the rectilinear, sometimes somewhat clumsy Chinese characters of the stone rubbings bring an expressive immediacy to the spiritual strength and deeply-felt religious convictions of the Buddhists of the sixth century.
---
left: Head of a Buddha. Lime stone, H. 62 cm China, Northern Qi period 550-577, Museum Rietberg Zürich, Photo: R. Wolfsberger. right: Stone rubbing. Ink on paper, 181 x 177.8 cm China, Mount Gang, Zoucheng, Shandong © Rheinisches Bildarchiv Köln (RBA).