Römisch-Germanisches Museum (Romano-Germanic Museum)
Built above the Roman town villa with the world-famous Dionysus mosaic the Römisch-Germanisches Museum houses examples of art, culture and everyday life in Roman and early medieval Cologne. A highlight is the worldwide largest collection of Roman glass with the tri-coloured cage cup (c. 330/340 AD) and the miniature portrait miniature of Emperor Augustus in turquoise glass. The art of barbarian peoples in the early Middle Ages is shown in various types of precious jewellery for women and men - a form of capital in the Migration Period. These objects at the Romano-Germanic Museum form part of one of the richest early European collections.
Time tunnel. 2000 years of Cologne history

9 November to 7 July 2013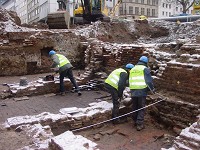 The archaeological excavations associated with the construction of the north-south metro line in Cologne between 2004 and 2011 were the biggest engineering operation in the history of the city. Thanks to the largely sub-surface construction methods used in the excavation of the tunnel, earth-moving operations were restricted to the sites of the stations and supply and access shafts for the four kilometers of track. Between the future stations the original sediment was moved a long way beneath the levels affected by human occupation. The volume of earth examined amounts to 150,000 cubic meters. The archaeological investigations represent a unique cross-section through the more than two-thousand-year history of Cologne. Roughly two and a half million finds from all the periods of the city's history were recovered – early Roman military objects at Breslauerplatz, Roman harbour artifacts in the Old Town, huge temple foundations near St Maria im Kapitol, settlement and grave finds in the southern Roman suburb, early medieval craftsman and merchant quarters in the Old Town, impressive fortifications from the Middle Ages and Prussian earthworks in the New Town. The exhibition throws new light on many facets of the history of the city of Cologne. A book with c. 260 pages and 180 coloured illustrations will be published to accompany the exhibition – a book on the history of Cologne.
Guided Tours (german language)
Dienstag, 21. Mai , 15:30 Uhr

Dienstag, 28. Mai , 15:30 Uhr

Dienstag, 4. Juni , 15:30 Uhr

Dienstag, 11. Juni , 15:30 Uhr

Dienstag, 18. Juni , 15:30 Uhr

Dienstag, 25. Juni , 15:30 Uhr

Dienstag, 2. Juli , 15:30 Uhr
Participation in public guided tours is generally free of charge.
preview
Music in Roman Cologne

18 July to 3 November 2013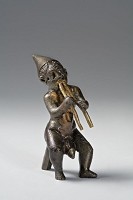 Music is ephemeral and the music people listened to in Roman times has long ceased to be heard. What remains are instruments made from clay and metal, reports of pipers and images of mythical musicians. A major city such as Roman Cologne – historians estimate that the city was home to 25,000 people – must have had a rich musical scene. In the theatres, small orchestras accompanied tragedies and comedies – the latter being the more popular genre. Tuba players cheered the gladiators in the arenas and cornus players gave signals to the guards of the proconsul. Flute players drowned out distracting noises during sacrificial rituals, women playing the lyre accompanied singers at private celebrations, children whistled popular tunes and wet nurses sang lullabies to babies. The objects dating from that period that have survived are part of the collection of the Römisch-Germanisches Museum in Cologne. Original finds, memorials depicting musicians from Cologne and the entire Roman Empire as well as numerous written sources give an idea – albeit a fragmentary one – of the musical life in Roman Cologne.
Guided Tours (in German)
Donnerstag, 23. Mai, 15 Uhr
"Do ut des" - Opfer für Glück und Segen

Sonntag, 26. Mai, 11.30 Uhr
Frühmittelalterliches Köln, für Erwachsene

Sonntag, 2. Juni, 11.30 Uhr
Phönix aus der Asche. Antikes Glas, für Erwachsene

Courses and events (in German)
Samstag, 20. Juli, 14 Uhr
Exkursion: Von den Römern zur Romanik - Groß St. Martin, für Erwachsene
Ein rätselhaftes steingefasstes Wasserbecken aus dem 1. Jahrhundert n. Chr., ein riesiger Speicherbau aus dem 2. Jahrhundert n. Chr. - diese imponierenden Reste römischer Architektur in Köln sind eingefügt in die moderne Tageskirche unter der Dreikonchen-Anlage von Groß St. Martin.
Nach dem Stadtbrand von 1150 begann die rund 100jährige Bauzeit der romanischen Kirche, die wie keine andere das große Jahrhundert staufischer Baukunst in Köln in ihrer Gesamtheit repräsentiert. Bis heute ist ihr monumentaler Turm Wahrzeichen der Kölner Altstadt. Kosten: 8 €
8,00 zzgl. Eintritt sowie 1,00 € für die Unterkirche
Anmeldung bis: 15.07.2013 Details und Buchung
Sonntag, 21. Juli, 14 Uhr
Kurs: Römisches Maskenspiel, für Kinder ab 8 Jahren
Spielen, Gestalten
Bei einem Rundgang durch das Museum erfahrt ihr Interessantes über die Bewohner des römischen Köln, ihre Berufe und Familien, über Alltag und Festtag. Mit Hilfe von Masken versetzt ihr euch in diese Personen und fangt an, wie im "Theater" zu spielen. Wer möchte, kann anschließend eine eigene "römische" Theatermaske gestalten. Kosten: 9 €
Material: 9 €
Anmeldung bis: 18.07.2013 Details und Buchung
Donnerstag, 1. August, 14 Uhr
Kurs: Leben in der Jungsteinzeit, für Kinder ab 8 Jahren
Experimentieren
Wie lebte man vor 7000 Jahren? Waffen, Werkzeuge, Gefäße und Schmuck aus der Jungsteinzeit geben uns einen Eindruck vom Erfindungsreichtum der damaligen Menschen. Mit originalgetreu rekonstruierten Steinwerkzeugen könnt ihr selbst ausprobieren wie man mit einer Feuersteinklinge schneidet oder wie man mit einem Steinbohrer aus einer Muschel einen Schmuckanhänger macht. Und wie baute man ein Haus? Lasst euch überraschen. Kosten: 10,5 €
Material: 2 €
Anmeldung bis: 22.07.2013 Details und Buchung
Donnerstag, 29. August, 14 Uhr
Kurs: Schimmernd in Gold - Römische Schmuckstücke, für Kinder ab 8 Jahren
Gestalten in Metall
Der bei Ausgrabungen in Köln gefundene römische Schmuck stammt meist aus Gräbern: Römerinnen und Römer wollten auch im jenseitigen Leben nicht auf Lieblingsstücke verzichten.
Gold- und Silberschmuck wurde mit Edelsteinen und Perlen kostbar gestaltet. Wer sich diesen Luxus nicht leisten konnte oder wollte, wählte als Ersatz Eisen oder Bronze und Schmucksteine aus Glas. Armreifen in Schlangengestalt und andere Amulette sollten vor Unglück schützen, kleine Medaillons gefüllt mit Zaubersprüchen Glück bringen. Ideen für die Gestaltung eurer 'römischen' Schmuckstücke gibt es also genug. Kosten: 10,5 €
Material: 2 €
Anmeldung bis: 19.08.2013 Details und Buchung
Samstag, 21. September, 10.30 Uhr
Kurs: Faszination des Ausdrucks - Römische Masken, für Erwachsene
Eine Maske hieß bei den Römern "Persona". Im Totenkult diente sie als Grabbeigabe oder Grabzier, als Ahnenmaske überlieferte sie das Aussehen eines Verstorbenen, im Theater machte sie ihren Träger zu einem anderen Wesen. Auch Sie können sich mithilfe von Masken in unterschiedliche Personen des römischen Köln versetzen. Dabei gewinnen Sie durch kurze Einführungen in den römischen Alltag und natürlich auch in die Welt des römischen Theaters eine neue Beziehung zur damaligen Zeit.
Ihre eigene Maske gestalten Sie selbst, ganz individuell – angeregt von
den originalen Fundstücken im Museum.
Gestalten, Agieren
Kosten: € 21,00 (erm. 13,50); Material: € 2,00 Kosten: 21 €
Kosten: € 21,00 (erm. 13,50); Material: € 2,00
Material: 2 €
Ermäßigung für Studenten: 13,5 €
Anmeldung bis: 11.09.2013 Details und Buchung
Samstag, 23. November, 14 Uhr
Kurs: Römische Goldgläser - Inbegriff des Luxus, für Erwachsene
Goldgläser gehörten in spätrömischer Zeit zur prunkvollen Ausstattung des Hauses, wurden aber auch bei Opferzeremonien im Kult gebraucht. Die Bildmotive aus Goldfolie steigerten den Wert eines damit verzierten Glasgefäßes um ein Vielfaches.
Bei der Verzierung Ihres Glases mit Blattgoldimitation lernen Sie eine der faszinierendsten Kunsttechniken der Antike kennen. Gestalten Sie ein ganz besonderes Glas - zum Freuen, Nutzen oder Verschenken.
Technik: Arbeiten mit Blattgold auf Glas
Kosten: € 21,00 (erm. 13,50); Material: € 4,00 Kosten: 21 €
Kosten: € 21,00 (erm. 13,50); Material: € 4,00
Material: 4 €
Ermäßigung für Studenten: 13,5 €
Anmeldung bis: 13.11.2013 Details und Buchung
Opening times
Tue to Sun 10 a.m. to 5 p.m.
Every 1st Thu of the month: 10 a.m. to 10 p.m.
closed on Mondays
public transport
Public transport
rail service, local trains (S-Bahn): "Hauptbahnhof" (5 min walk)
bus, tram, underground: "Dom/Hauptbahnhof"; (5 min walk)
Car parks
Am Dom / Philharmonie / Groß St. Martin
Admission
Permanent collection including special exhibitions:
Adults € 8 Concessions € 4
Free admission to the permanent collection for Cologne residents aged 0-18; students (incl. 2 teachers per group); holders of the KölnPass; Cologne residents on their birthday
1st Thu of each month (except public holidays): free admission for Cologne residents to the permanent collection
Information for visitors with impaired mobility
The main entrance area is suitable for wheelchair users. Toilets for disabled persons. Small lift. The exhibition area is only partly suitable for wheelchair users. Tactile exhibition for blind visitors or those with severely impaired vision.
Museum shop
Köselsche Buchhandlung im Römisch-Germanischen Museum
Literature on classical antiquity, replicas of museum exhibits and Roman glass, museum publications
Tel: +49 (0) 221 92 55 309
Fax: +49 (0) 221 25 41 97
Email: Museumsshop.koesel@t-online.de
www.koesel-koeln.de