NS-Dokumentationszentrum (EL-DE-Haus)
Appellhofplatz 23-25
50667 Köln
T +49 221 221 26332
F +49 221 221 26331
nsdok@stadt-koeln.de
Direktor: Dr. Werner Jung
preview
Der Prozess - The court case against Adolf Eichmann

21 June to 13 October 2013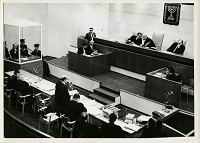 More than 50 years ago, in April 1961, the Jerusalem District Court opened the trial against Adolf Eichmann, former SS-Sturmbannführer (major) and head of the "Judenreferat IV B 4" (head of the division for affairs relating to the Jewish population) at the Reichssicherheitshauptamt (security main office). The trial developed into a major media event. It was not just the perpetrator of Holocaust atrocities who was in the public limelight – for the first time the world had the opportunity to hear the testimonies of the victims. The trial in Jerusalem marks the beginning of the era of contemporary witnesses. The demeanour of Eichmann before the court triggered discussions on the guilt and responsibilities of individuals in the Nazi system. This exhibition is devoted to both aspects of the trial – the testimonies of the survivors and the strategy of the perpetrator. At the centre of the exhibition is original film material taken in court. The exhibition is organised by the" Topographie des Terrors" Foundation, the" Denkmal für die ermordeten Juden Europas" Foundation and the "Haus der Wannsee-Konferenz" memorial site and educational centre.
Opening times
Tue to Fri 10 a.m. to 6 p.m.
Sat and Sun 11 a.m. to 6 p.m.
Every 1st Thu of each month: 10 a.m. to 10 p.m.
closed on Mondays and during carnival
public transport
Public transport
rail service, local trains (S-Bahn): "Hauptbahnhof" (10 Min walk)
underground: "Appellhofplatz"
Car Parks
Am Dom / DuMont-Carré
Admission
Tickets are valid for one day.
Permanent collection
Adults: 4,50 €
Concession: 2,00 €
Some exhibitions may carry a separate charge.
Free admission for children up to 6 years, for Cologne residents up to 18 years, students (incl. 2 teachers per group), holders of the KölnPass, Cologne residents on their birthday
Free admission to the permanent collection on the 1st Thu of each month (except public holidays): for Cologne residents.
Information for visitors with impaired mobility
Access to the rooms of the venue is restricted for disabled visitors.