Kölnisches Stadtmuseum
Zeughausstraße 1-3
50667 Köln
T 0221 - 221 25789
F 0221 - 221 24154
ksm@museenkoeln.de
Direktor: Dr. Mario Kramp
An explorer from Cologne in Egypt. The adventurous Orient expedition of Franz Christian Gau (1818-1820)

9 March to 26 May 2013
As a result of Napoleon's Egypt expedition between 1798 and 1801, Europe was gripped by a veritable "Egyptomania". The young architect Franz Christian Gau (1790-1853) from Cologne was among those who went to explore the Orient. His watercolours from the Kupferstichkabinett in Vienna will be complemented by works on loan from Cologne collections. These will include early photographs.
BORDERLINES. Jasmina Metwaly: Video Installation 2013

9 March to 26 May 2013
This recent video installation by the young Egyptian artist Jasmina Metwaly from the media collective Mosireen in Cairo complements the exhibition on the history of Gau's Egypt expedition and highlights the current situation and political conflicts in Egypt. Jasmina Metwaly was born in Warsaw in 1982. She grew up partly in the Polish capital, partly in Cairo where she is living today. Metwaly studied at the art academy in Poznan (Poland) and at the Byam Shaw School of Art in London.
...earthly bread and heavenly food...

18 May to 30 June 2013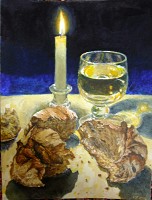 Cabinet exhibition on the occasion of the Eucharistic Congress in Cologne The Catholic Church venerates the consecrated host as a symbol of the presence of Christ resurrected. In the Middle Ages Cologne was among the first cities in which on the feast day of Corpus Christi the body of Christ was carried through the city in a procession. For this occasion splendid monstrances were created, one of which is at the heart of this exhibition. Paintings and prints from Cologne from the Middle Ages to the modern era illustrate the veneration of the consecrated host through the ages. Today, as in the past, the celebration of the First Communion is at the centre of Eucharistic devotion.
Guided Tours (german language)
Donnerstag, 6. Juni , 17:30 Uhr
Participation in public guided tours is generally free of charge.
preview
125 years Kölnisches Stadtmuseum. 125 x bought - gifted - donated

22 June to 6 October 2013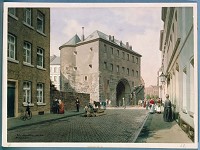 The Kölnisches Stadtmuseum is celebrating its 125th anniversary in 2013. It opened its doors at the beginning of August 1888 and is thus one of the oldest museums in Germany – an excellent reason to celebrate. In the exhibition the museum provides a panorama of its history, the huge variety of its 300,000 exhibits and the history of Cologne. 125 years – 125 exhibits: an exhibit from each year of the museum's history is presented – many for the first time - each with its own history. The exhibition includes all the materials and all the historical periods – and also highlights the tionshave so far never been displayed, precious objects, unpretentious objects, things lost and things whose genuineness is disputed. A refreshing glimpse behind the scenes and the history of Cologne in the last 125 very turbulent years.
Guided Tours (german language)
Sonntag, 23. Juni , 13:30 Uhr

Dienstag, 25. Juni , 18:00 Uhr

Sonntag, 30. Juni , 13:30 Uhr

Dienstag, 2. Juli , 18:00 Uhr

Dienstag, 16. Juli , 18:00 Uhr

Samstag, 20. Juli , 11:00 Uhr

Donnerstag, 25. Juli , 15:00 Uhr

Dienstag, 30. Juli , 18:00 Uhr

Sonntag, 4. August , 10:30 Uhr

Dienstag, 6. August , 11:00 Uhr

Dienstag, 6. August , 18:00 Uhr

Mittwoch, 14. August , 18:00 Uhr

Sonntag, 18. August , 10:30 Uhr

Dienstag, 20. August , 18:00 Uhr

Dienstag, 27. August , 18:00 Uhr
Participation in public guided tours is generally free of charge.
preview
When the world came to Cologne - High-ranking guests on their visits to Cologne

2 July to 15 September 2013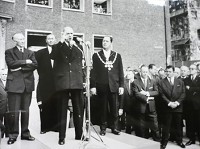 Konrad Adenauer achieved his aim of making Bonn the West German capital in 1949. From that point onwards illustrious state visitors often popped over to neighbouring Cologne. In 1962 Charles de Gaulle held a speech to a large crowd in front of the Spanischer Bau (part of Cologne town hall). In June 1963 John F. Kennedy did the same. The Ethiopian Emperor Haile Selassie and Queen Elizabeth also visited Cologne – as did later Prince Charles and Lady Diana. When Adenauer withdrew from the political scene, however, the period when high-ranking state visitors made a stopover in Cologne slowly ground to a halt. Historical photographs illustrate the visits by Theodor Heuss, Heinrich Lübke, Queen Elizabeth II, Queen Fabiola of Belgium, Charles de Gaulle, Emperor Haile Selassie, John F. Kennedy, Prince Charles and Lady Diana.
Opening times
Tue 10 a.m. to 8 p.m.
Wed to Sun 10 a.m. to 5 p.m.
Every 1st Thu of each month: 10 a.m. to 10 p.m.
closed on Mondays
public transport
Public transport
rail service, local trains (S-Bahn): "Hauptbahnhof" (10 Min walk)
underground: "Appellhofplatz/Zeughaus"
Car Parks
Am Dom / DuMont-Carré / Börsenplatz
Admission
Tickets are valid for one day.
Permanent collection
Adults: 5,00 €
Concession: 3,00 €
Combination ticket (special exhibitions and permanent collection)
Adults: 6,50 €, concessions: 3,50 €
Free admission for children up to 6 years, for Cologne residents up to 18 years, students (incl. 2 teachers per group), holders of the KölnPass, Cologne residents on their birthday
Free admission to the permanent collection on the 1st Thu of each month (except public holidays): for Cologne residents
Information for visitors with impaired mobility
Toilets for disabled persons, lift, ground floor and 1st floor suitable for wheelchair users. Two marked parking spaces for disabled visitors in front of the museum