Rautenstrauch-Joest-Museum - Kulturen der Welt
Leonhard-Tietz-Str. 10
50676 Köln
T +49-221.221-31356
F +49-221.221-31333
rjm@stadt-koeln.de
Besuchereingang
Cäcilienstraße 29-33
Direktor: Prof. Dr. Klaus Schneider
Andere Kinderwelten. Different children's worlds – 60th anniversary of UNICEF Germany

14 March to 21 July 2013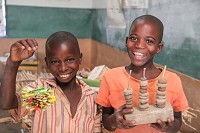 (An exhibition at the JuniorMuseum inthe Rautenstrauch-Joest Museum in collaboration with the Museumsdienst Cologne). The journalist Manfred Kutsch from Aachen and his wife Silke Fock-Kutsch have brought back everyday objects and finds from their more than 20 UNICEF-project journeys to Africa, Central and South America, Asia and Eastern Europe. These objects will be shown for the first time in Cologne. On the occasion of the 60th anniversary of UNICEF Germany, the JuniorMuseum in the Rautenstrauch-Joest Museum presents the exhibition "Andere Kinderwelten" - a documentation of childhoods between war and flight, poverty and the struggle for survival. Each of the roughly 80 exhibits from areas of conflict worldwide tells a moving story of hardship and hope. The exhibits will be complemented by photos which show the objects on display in the original environment.
Guided Tours (german language)
Mittwoch, 22. Mai , 15:00 Uhr

Mittwoch, 19. Juni , 15:00 Uhr

Mittwoch, 17. Juli , 15:00 Uhr
Participation in public guided tours is generally free of charge.
Albert Watson: 14 Days in Benin

28 April to 28 July 2013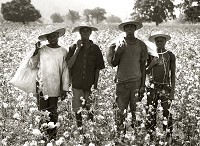 In December 2011 celebrity photographer Albert Watson photographed cotton farmers and their environment in the west African country of Benin for the initiative Cotton made in Africa (CmiA). Watson, who made himself a name with his legendary fashion and celebrity photographs, has created impressive portraits which provide an insight into the life and environment of the farmers and the field of work of CmiA. The initiative supports the cultivation of sustainably produced cotton in Africa and thus helps improve the living conditions of currently 430,000 smallholders. The photographs visualize the social objectives of CmiA without having recourse to stereotypical depictions of rural Africa. Apart from the cotton fields which he photographed when the harvest had just been completed, Watson visited traditional markets and a local king in a two-week tour of the country in order to get a wide variety of impressions of the people in Benin.
Guided Tours (german language)
Sonntag, 19. Mai , 15:30 Uhr

Sonntag, 26. Mai , 15:30 Uhr

Sonntag, 2. Juni , 15:30 Uhr

Sonntag, 9. Juni , 15:30 Uhr

Sonntag, 16. Juni , 15:30 Uhr

Sonntag, 23. Juni , 15:30 Uhr

Sonntag, 30. Juni , 15:30 Uhr
Participation in public guided tours is generally free of charge.
Here you can book an individual guided tour.
Other events
Mittwoch, 5. Juni , 19:00 Uhr
Vortrag: Cotton Made in Africa – Können Konsumenten und Kleinbauern gemeinsam gewinnen?
Die Aid by Trade Stiftung, Initiatorin der Ausstellung "Albert Watson: 14 Days in Benin", ver-folgt einen innovativen Ansatz der Entwicklungszusammenarbeit, um Armut in Sub-Sahara Afrika zu bekämpfen. Ihre Initiative "Cotton Made in Africa" arbeitet mit afrikanischen Kleinbauern zusammen, die Baumwolle nach Sozial- und Umweltstandards für den Weltmarkt produzieren. Dabei sind Kleinbauern und Unternehmen Partner auf Augenhöhe. In dem Vortrag und der anschließenden Podiumsdiskussion mit Vertretern aus Handel, NGO und öffentlicher Hand berichtet die Initiative über die Erfolge und Herausforderungen ihrer Arbeit. Eintritt frei
Freitag, 7. Juni , 18:00 Uhr
Eröffnung: Eröffnungsabend der 5. Kölner Indienwoche
Kulturelle Highlights aus den verschiedenen Regionen Indiens entführen in die vielfältige Kulturlandschaft des Subkontinents. Erleben Sie Indien hautnah: unter anderem mit Live-Musik der Anubhab Academy sowie klassischen und modernen Tänzen mit Meera Varghese. Es erwarten Sie viele spannende Momente und landestypische Snacks, Erfrischungsgetränke und indische Klänge in der Bollywood-Lounge. Veranstalter Deutsch-Indische Gesellschaft Bonn/Köln Eintritt frei
Opening times
Tue to Sun (incl. public holidays) 10 a.m. to 6 p.m.
Thu 10 a.m. to 8 p.m.
Every 1st Thu of each month: 10 a.m. to 10 p.m.
closed on Mondays
public transport
Public transport
bus, tram, underground: "Neumarkt" (5 min walk)
Car park
Cäcilienstraße
Coach pick-up and drop-off point
in front of the museum; coach park along the Rhine river
Admission
Admission to the permanent collection Adults: € 7.00 €
Concession: € 4.50 €
Combination ticket (permanent and special exhibitions):
Adults: € 10.00 €, concession: € 7.00 €
Free admission for children up to 6 years, for Cologne residents up to 18 years, students (incl. 2 teachers per group), holders of the KölnPass, Cologne residents on their birthday
Free admission to the permanent collection on the 1st Thu of each month (except public holidays): for Cologne residents.
Refreshments
Bistro KOLBS
Tue to Fri 10 a.m. to 6 p.m.
Thu 10 a.m. to 8 p.m.
1st Thu of each month 10 a.m. to 10 p.m.